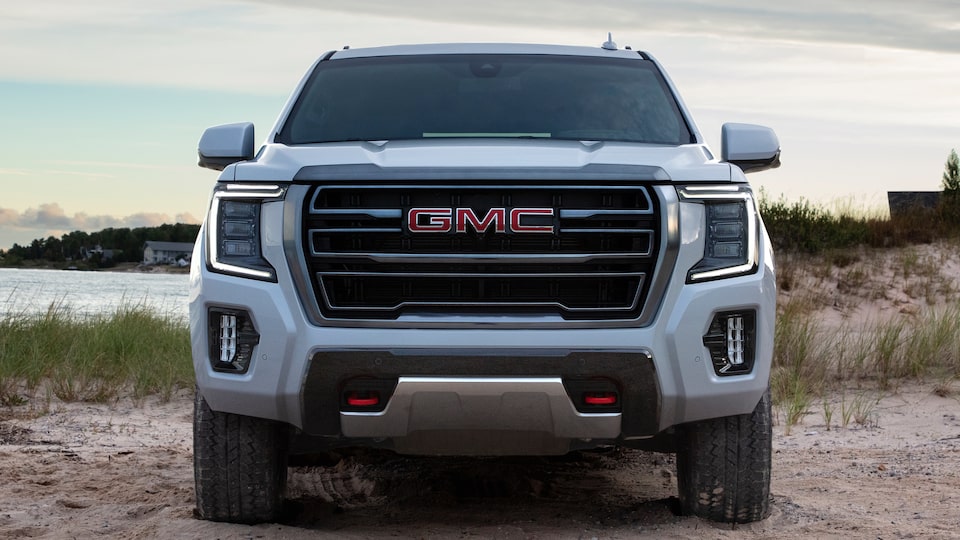 AS SHOWN: {{as_shown_price}}{{as_shown_price_disclosure}}
{{starting_price}}{{starting_price_disclosure}}
---
---
---
---
YUKON AT4 VS. YUKON XL AT4
Overall Length: 5334 mm (210.0 in.)
Cargo Volume (behind 3rd row): 722 L (25.5 cu. ft.)†
Third-row Legroom: 886 mm (34.9 in.)

BUILD & PRICE
ACCESSORIES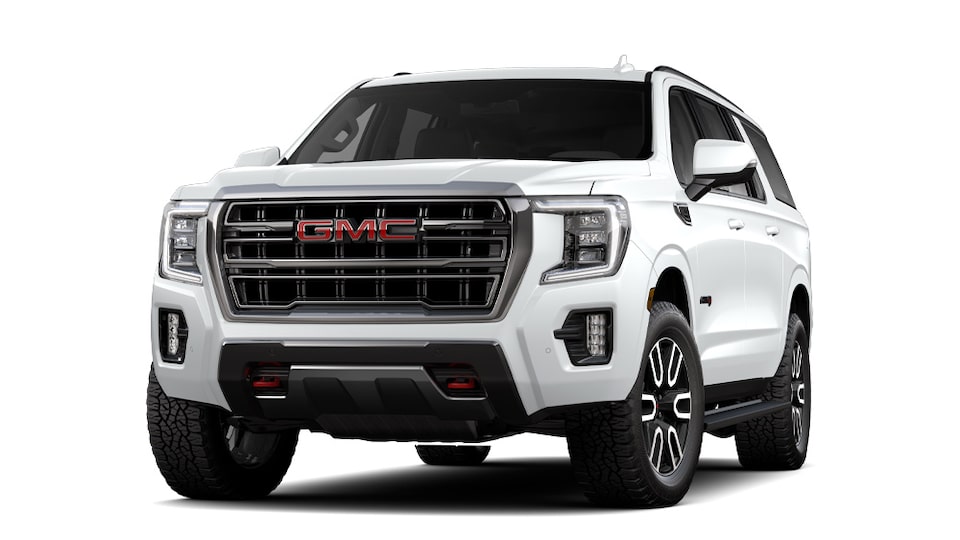 Overall Length: 5720 mm (225.2 in.)
Cargo Volume (behind 3rd row): 1175 L (41.5 cu. ft.)†
Third-row Legroom: 932 mm (36.7 in.)

BUILD & PRICE
ACCESSORIES
FEATURE HIGHLIGHTS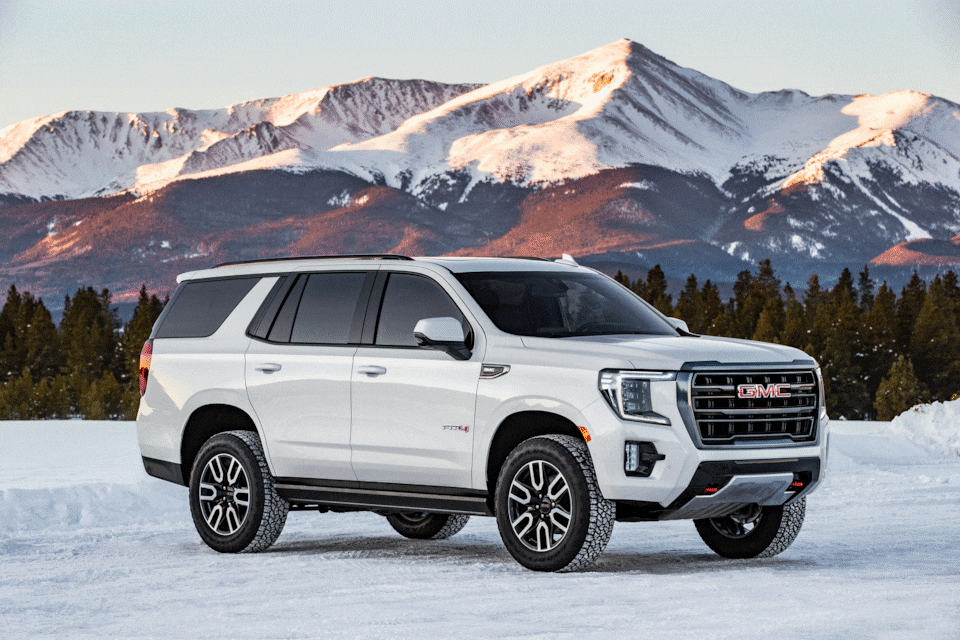 AVAILABLE FOUR-CORNER AIR RIDE ADAPTIVE SUSPENSION

The available Air Ride Adaptive Suspension can raise the vehicle up to 2" to improve ground clearance, all while delivering cloud-like ride comfort and refined driving dynamics.
EXCLUSIVE AT4 INTERIOR

The Jet Black interior features heated and ventilated† driver and front-passenger perforated leather seating surfaces, AT4-exclusive Brandy accents and dark brushed aluminum details.
AVAILABLE CLASS-LEADING† 15" HEAD-UP DISPLAY

The available multicolour 15" diagonal Head-Up Display helps you keep your eyes on the road and features an Off-Road Inclinometer that measures the vehicle's tilt and grade.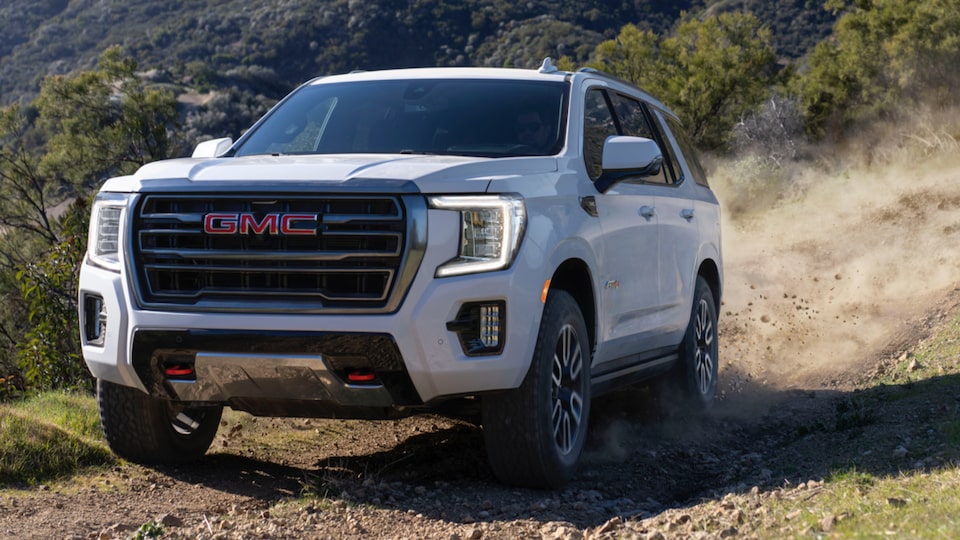 DISTINCTIVE EXTERIOR DESIGN
From its dark chrome accents and red recovery hooks† to its uniquely bold front design, the AT4-exclusive exterior makes a powerful statement.
SPEC HIGHLIGHTS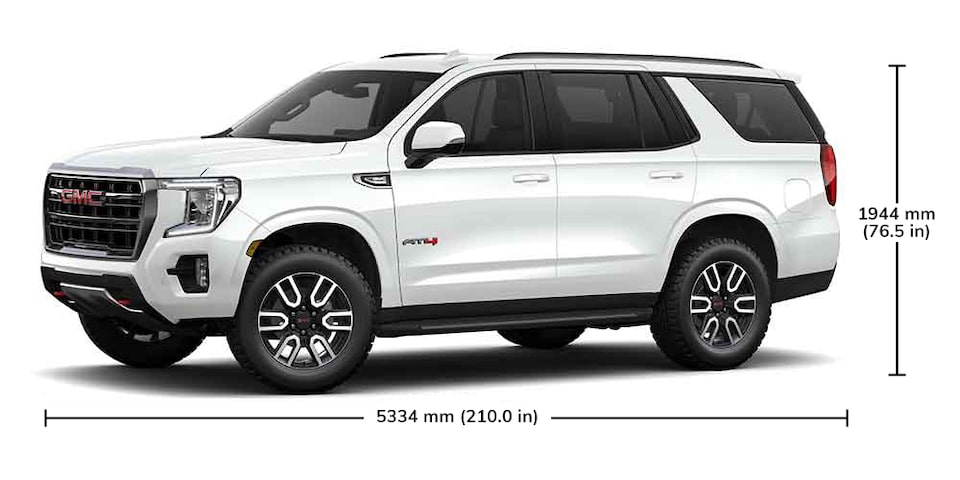 ---
The Yukon AT4 full-size SUV comes with three rows of seating in a 4WD configuration.

LEGROOM (1st/2nd/3rd row)

1130 mm (44.5 in.) /1067 mm (42.0 in.)/ 886 mm (34.9 in.)

MAX. CARGO VOLUME (behind 1st/2nd/3rd row)

3480 L (122.9 cu. ft.) /2056 L (72.6 cu. ft.) /722 L (25.5 cu. ft.)†

AVAILABLE MAX. TRAILERING

UP TO 3720 KG (8200 LB.)†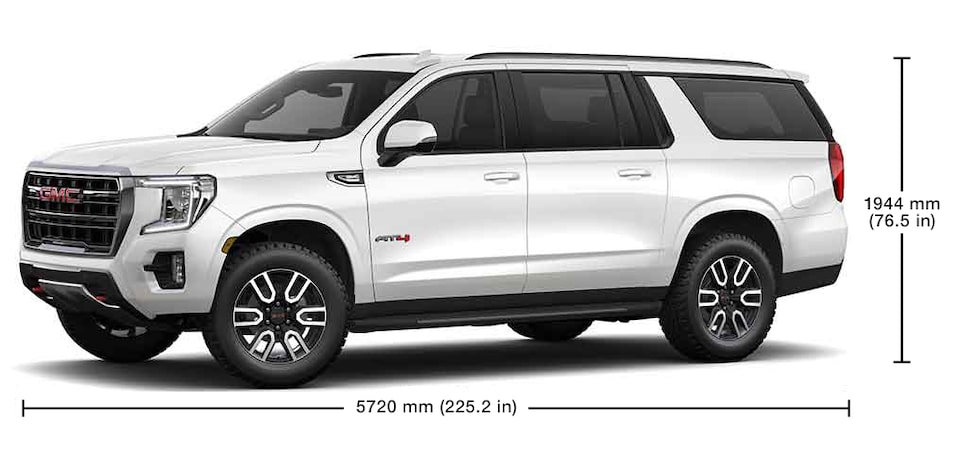 ---
The Yukon XL AT4 comes with three rows of seating, with additional cargo room, in a 4WD configuration.
LEGROOM (1st/2nd/3rd row)

1130 mm (44.5 in.) /1067 mm (42.0 in.) /932 mm (36.7 in.)
MAX. CARGO VOLUME (behind 1st/2nd/3rd row)
4099 L (144.7 cu. ft.) /2656 (93.8 cu. ft.) /1175 L (41.5 cu. ft.)†
UP TO 3629 KG (8000 LB.)†
COLOURS

GALLERY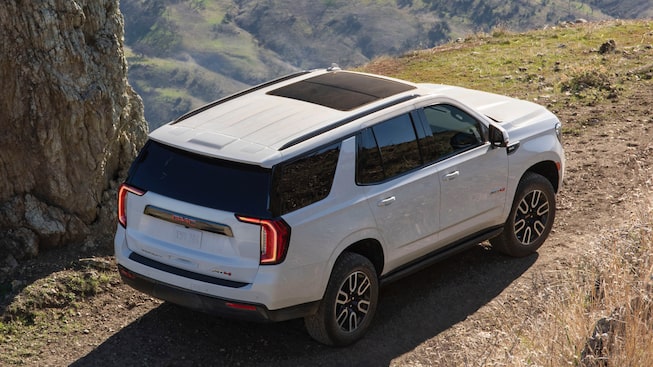 YOU MIGHT ALSO LIKE
{{starting_price}}{{starting_price_disclosure}}
{{as_shown_price}}{{as_shown_price_disclosure}}
{{starting_price}}{{starting_price_disclosure}}

{{as_shown_price}}{{as_shown_price_disclosure}}

{{starting_price}}{{starting_price_disclosure}}

{{as_shown_price}}{{as_shown_price_disclosure}}

Your safety is very important to us. If you want to determine whether or not there is a recall on your current vehicle or on a vehicle you are considering buying, visit https://my.gm.ca/gmc/en/recalls