AUTOTRAC® 2-SPEED TRANSFER CASE

Difficulty Level: Intermediate |  Time Required: Two Minutes |  Tools Required: None | Related Parts, Products, Services or Technology: None
Choose the right 4WD transfer case mode for your drive

If equipped, you can select the ideal 4WD mode with electronic controls that adjust your vehicle's AutoTrac 2-speed transfer case (available on some 4WD vehicles). This is designed to help improve your vehicle's handling in different driving conditions.
---
---
HOW THE AUTOTRAC® 2-SPEED TRANSFER CASE WORKS

Different 4WD modes can be selected for specific on- or off-road conditions. These modes are electronically controlled by an AutoTrac® 2-speed transfer case.
The way you change modes depends on your vehicle. There will either be a knob or a row of buttons located on your instrument panel to the left of the steering wheel. If using a knob, simply rotate the knob to reach the desired mode. If using buttons, simply press the button to select your desired mode.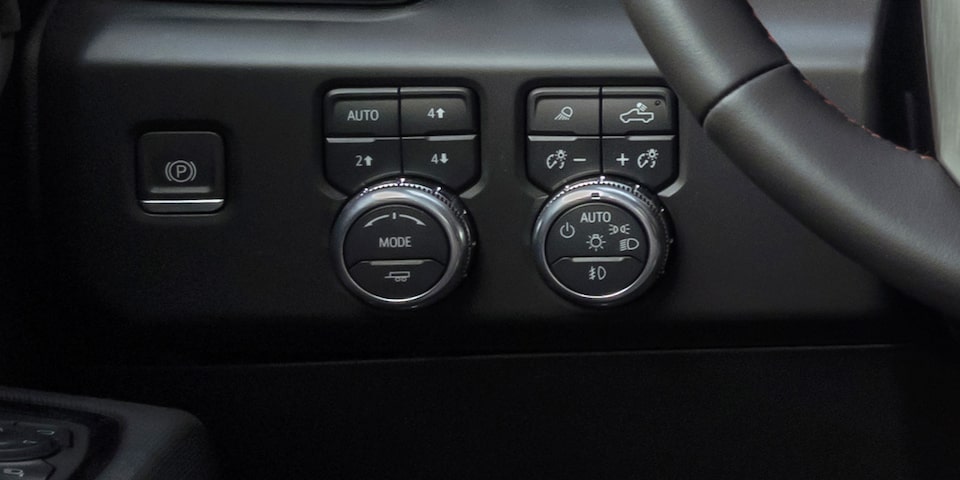 What Drive Modes Can I Select?
Depending on your vehicle's equipment, modes may include:
2 Hi:
For normal driving on paved roads with good traction, this mode allows the vehicle to operate as 2WD. This could help save wear on 4WD components.
This mode may also help improve fuel efficiency because power is distributed only to the rear axle.
It is the optimal setting for normal driving conditions on roads and highways.
4 Auto:
This mode is designed to help improve traction, stability and control.
You can use it on any road surface. However, this mode is designed for driving on wet roads or in winter conditions.
Compared to 2 Hi, it may slightly reduce fuel efficiency.
4 Hi:
High-range 4WD is designed to help increase traction when you're driving over loose, slippery or demanding terrain, such as gravel.
You shouldn't use this mode on dry surfaces or roads with good traction. It's important that you shift out of 4 Hi as soon as road conditions improve.
4 Low:
Low-range 4WD provides more torque to the wheels for off-road driving, like in deep sand, mud or snow.
In severe off-road scenarios, you can use 4 Low for more control of the vehicle's speed when you're crossing obstacles or rocks, or climbing and descending steep grades.
You shouldn't use this mode at speeds over 72 km/hr (45 mph). You also shouldn't use this mode on dry surfaces or roads with good traction. It's important that you shift out of 4 Low as soon as road conditions improve.
Neutral:
Additionally, your vehicle may include a Neutral mode (N), which allows the truck to be towed behind another vehicle (also known as dinghy towing).
RELATED LINKS AND RESOURCES
No. The transfer case is designed to be "shifted on the fly," allowing you to change modes without bringing the vehicle to a stop. However, to shift into or out of 4 Low, the vehicle must be moving at less than 5 km/hr (3 mph).

---
On some models, an indicator on the selector knob or button will flash while the mode is being switched and will turn solid once it is fully engaged. On other models, an indication will appear in the Driver Information Centre (DIC).

LOOKING FOR SOMETHING ELSE?

NEED MORE HELP?
Communicate with one of our specialists.
---
To find out if your vehicle has this feature, contact your dealer or refer to your vehicle's equipment list. Please check your Owner's Manual for more information about features.