ELECTRIFIED
With the power to go far, go fast and conquer virtually any terrain, the supertrucks turn electric dreams into a revolutionary reality.

HOW TO CHARGE

The HUMMER EV comes standard with a Level 2† Dual-Level Charge cord set with a changeable plug, enabling charging at home or on the go.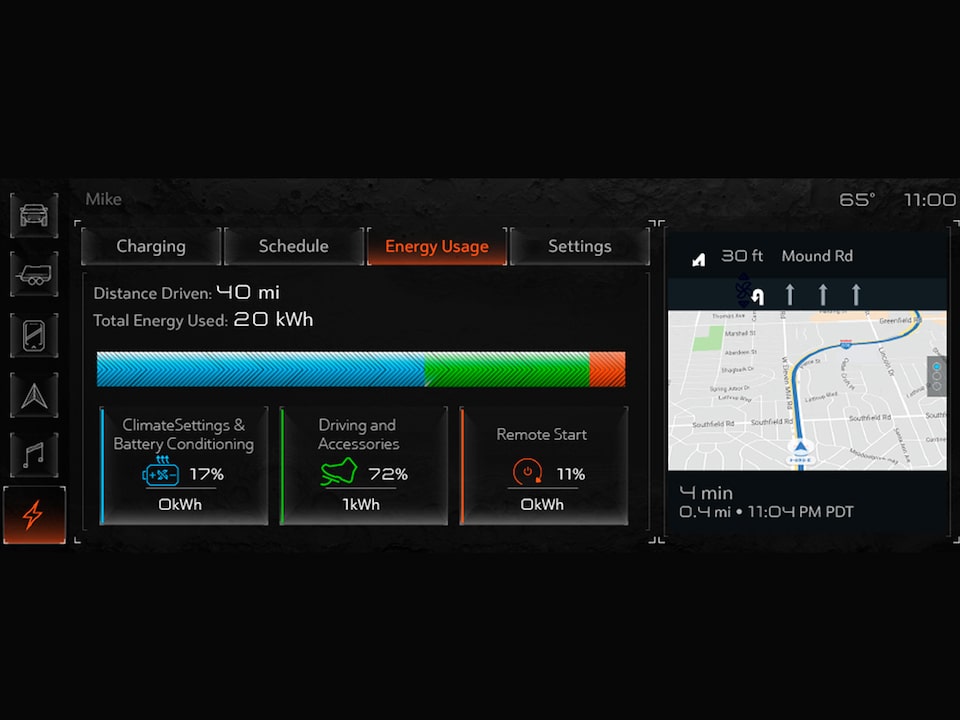 HOW FAR

The supertrucks can take you far. On a full charge, they have an available driving range of up to a GM-estimated 571 kilometres† with HUMMER EV3X Pickup and GM-estimated up to 505 kilometres† with HUMMER EV SUV.
Preproduction HUMMER EV Pickup screen shown.

HOW POWERFUL

Electricity has never been more electrifying. HUMMER EV Pickup is available with up to 1,000 horsepower,† 11,500 lb-ft of torque† and, with available Watts To Freedom,† 0-60 mph (0-97 km/h) acceleration in about 3 seconds.† HUMMER EV SUV offers up to an available 830 horsepower† and 11,500 lb-ft of torque.† And with available Watts To Freedom, 0-60 mph (0-97 km/h) is yours in approximately 3.5 seconds.†

ENGINEERED TO CONQUER

Dominating the uncharted. Shattering the impossible. The revolutionary GMC HUMMER EV Pickup and SUV supertrucks are engineered to conquer nearly any terrain, empowering you to pursue adventures unimaginable—until now.

CRABWALK

Available 4-Wheel Steer enables the manoeuvring flexibility of CrabWalkTM†—a revolutionary available setting. CrabWalk allows the rear wheels to turn in the same direction as the front, up to 10 degrees in either direction, to drive diagonally at low speeds to help you traverse tight trails.
Preproduction HUMMER EV Pickup screen shown.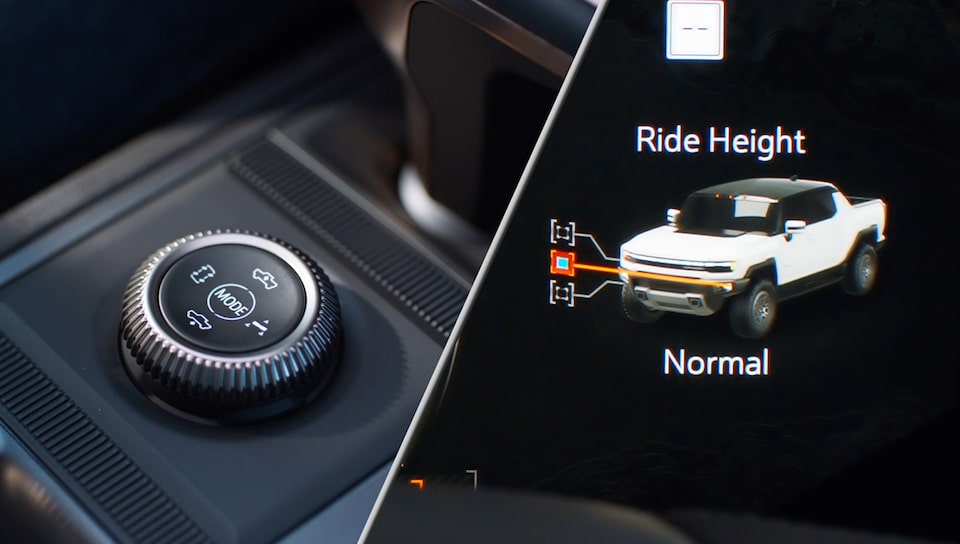 EXTRACT MODE

Find yourself in a tough spot? Rise to the challenge with the first-of-its-kind available Extract Mode.† Elevate approximately 6" (152mm) to help overcome boulders, or other formerly impassable obstacles.

---
EXTREME OFF-ROAD PACKAGE

The supertrucks earn their authentic off-road cred with configurations and components specifically engineered for dominating uncharted terrain.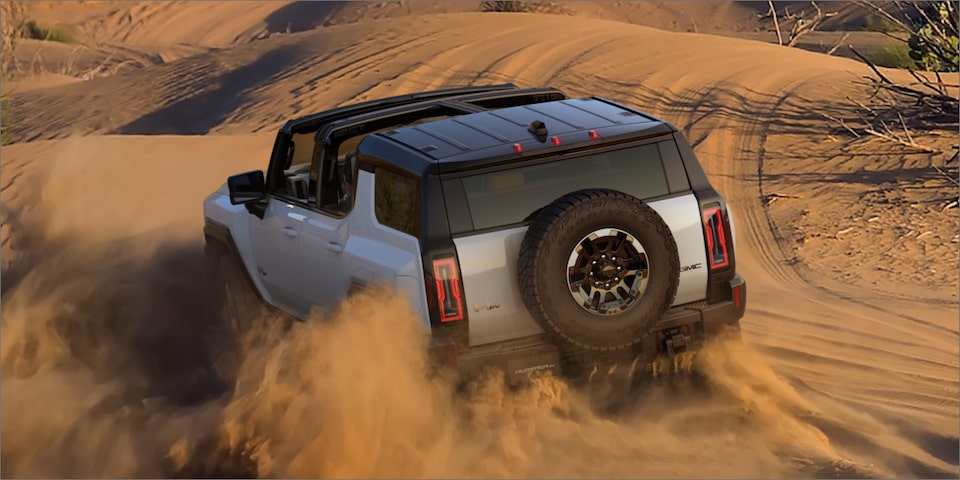 Extreme Off-Road Package is standard on Edition 1 Pickup. It is also available on Edition 1 SUV and EV3X and includes:

Front e-lockers and rear virtual lockers
Heavy-duty ball-spline half shafts
18" wheels with 35" mud-terrain tires
Underbody skid plates, rock sliders, UltraVision

†

underbody cameras and Rear Recovery Hooks

†
Preproduction HUMMER EV Pickup screen shown.

ULTRAVISION

Available UltraVision† provides various camera views to help manoeuvre in almost any situation. Up to 18 camera views on the pickup and up to 17 on the SUV—including waterproof underbody front- and rear-facing cameras—provide real-time views of the terrain under the supertrucks.

Preproduction model shown with dealer-installed accessories.

35" OVERALL DIAMETER TIRES

Towering ground clearance comes from specially engineered 35" Overall Diameter Goodyear® Wrangler Territory MT tires on 18" wheels (included in the Extreme Off-Road Package) for optimal on- and off-road performance. Demand more? The HUMMER EV is engineered to fit tires up to 37" in overall diameter† without modifications.

FRONT AND REAR E-LOCKERS

When traction is hard to come by, it's good to know that the available Extreme Off-Road Package includes front e-lockers and rear virtual lockers on EV3X and Edition 1.

TORQUE VECTORING

On three-motor models, the unique e4WD system offers available torque vectoring to enable manoeuvrability and traction to help reach new destinations over the most challenging terrain—including climbing 60-percent grades (forward and reverse) and scaling up to 18" (457 mm) verticals.

---
PERSONALIZED DRIVING

Selecting the right drive mode on the HUMMER EV is as easy as turning a dial. Select from five drive modes to tailor the driving characteristics.

1 of 5

OFF-ROAD MODE

For off-roading in recreational conditions, Off-Road Mode improves driving at moderate speeds on grass and gravel, dirt, unpaved or snow-covered roads.

2 of 5

TERRAIN MODE

Terrain Mode uniquely integrates the brake system with One-Pedal Driving,† giving you precise control while off-roading or rock crawling.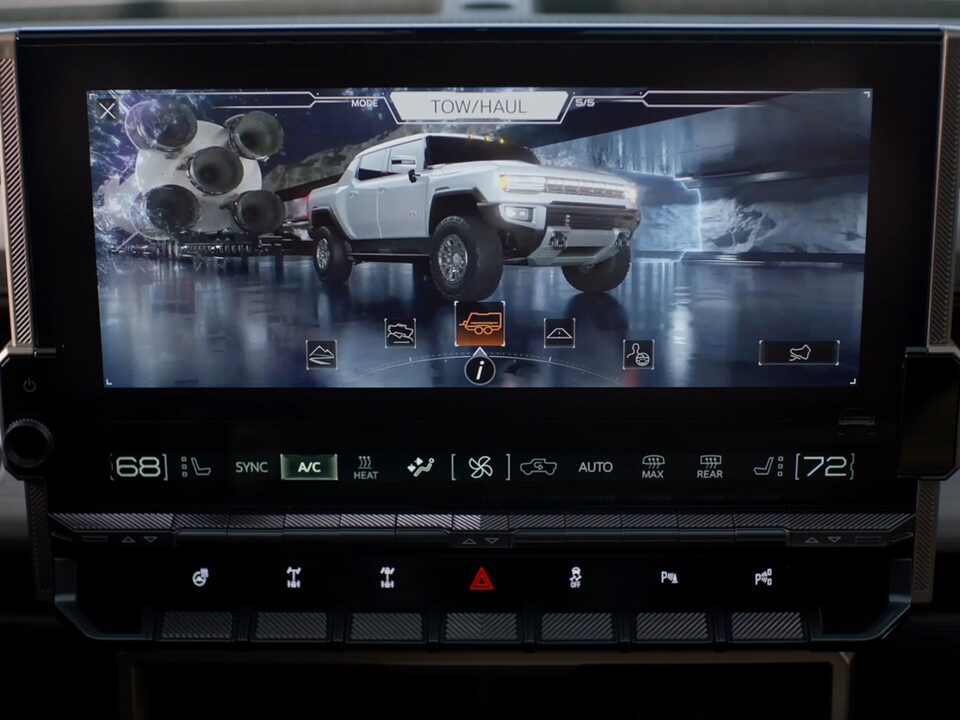 3 of 5

TOW/HAUL MODE

For more comfort and confidence while towing, Tow/Haul Mode adjusts torque and optimizes power distribution to tow with optimal continuous output. Plus, regenerative braking† helps control heavy trailer loads when braking.

4 of 5

NORMAL MODE

For city and highway driving, Normal Mode provides a balance between comfort and handling.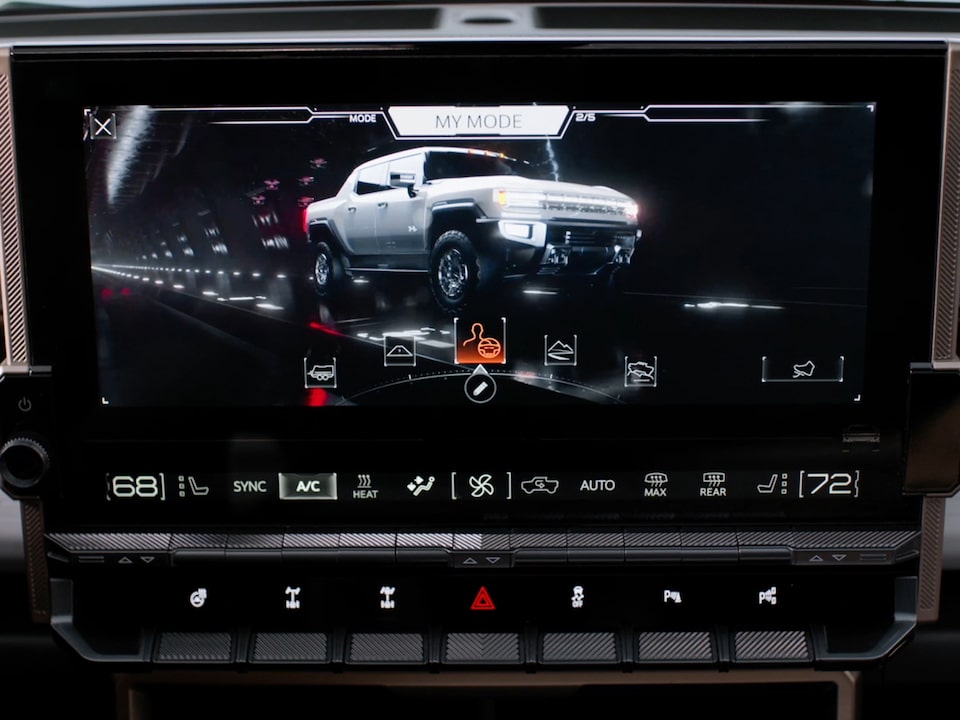 5 of 5

MY MODE

To personalize everyday driving, My Mode configures the drive systems to your precise driving preferences.

---
---
DYNAMIC SUSPENSION

Off-road dominance is engineered into every aspect of the supertrucks. Independent front and rear suspensions enable remarkable off-pavement handling, while available heavy-duty ball-spline half shafts help maximize articulation and reduce unwanted steering feedback during hard cornering and off-roading.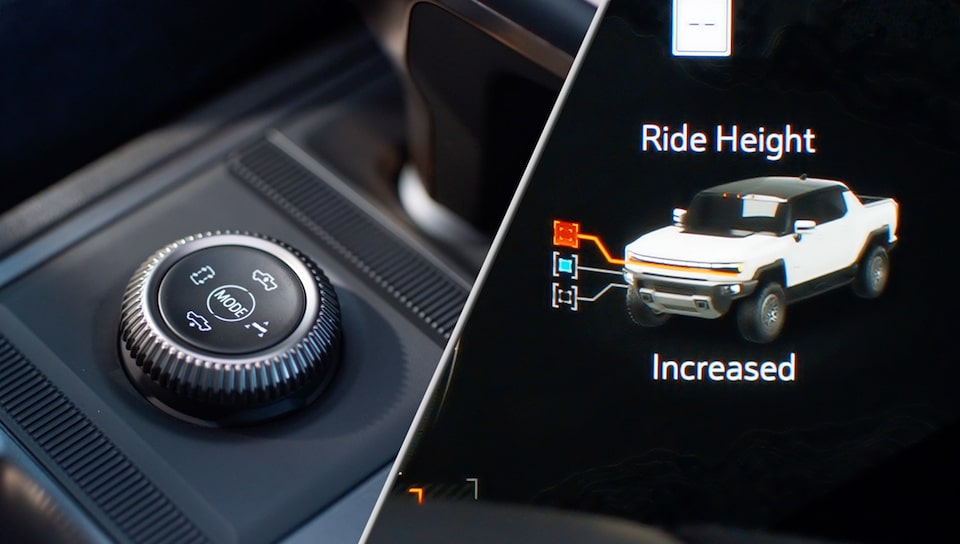 AIR RIDE ADAPTIVE SUSPENSION

The available Air Ride Adaptive Suspension automatically adjusts the ride height for various conditions. The adaptive ride control responds to on- and off-road inputs by adjusting damping levels to enhance ride and handling dynamics.

Entry/Exit: Helps improve vehicle access
Aero Mode: Assists in reducing drag, extends range
Terrain/Increased Mode: Increases ground clearance
Extract Mode:

†

This first-of-its-kind mode raises the supertrucks nearly 6" (152 mm) above normal height for improved ground clearance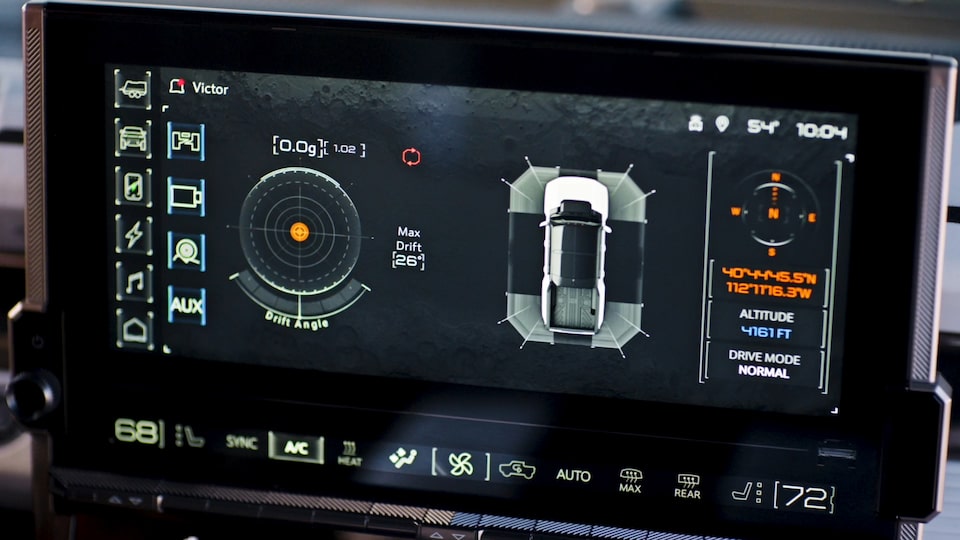 OFF-ROAD APP

The available Off-Road App provides off-road information on the infotainment screen, displaying a variety of real-time vehicle data, including:
G-force and drift angle—for low-traction, dynamic driving

Torque output—real-time torque data

Pitch and roll data—save and display your best performances

Compass—with enhanced off-road GPS coordinates

Available wheel travel—real-time wheel position data

Available torque vectoring—displays each wheel's torque distribution

PICKUP OFF-ROAD SPECS

Available Air Ride Adaptive Suspension standard on Edition 1 and EV3X.

VIEW SPECS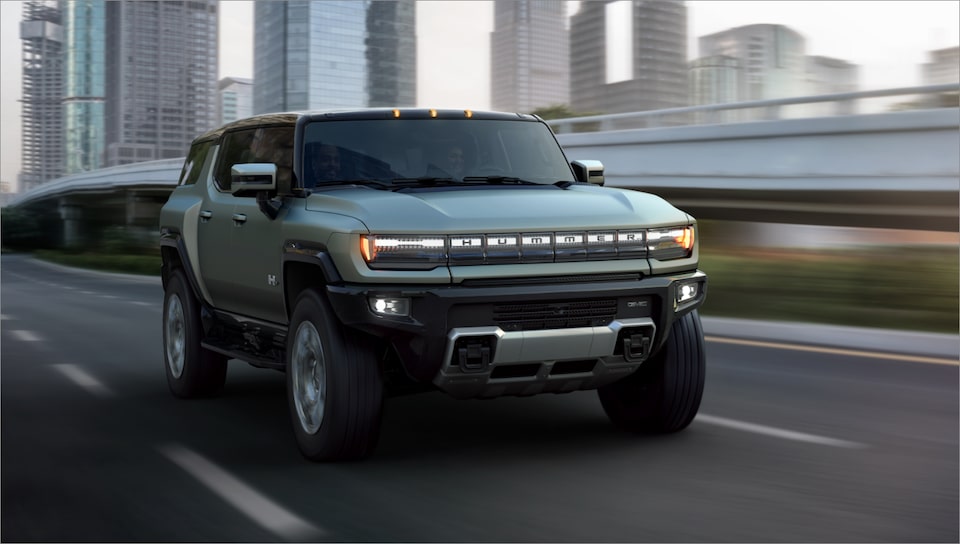 SUV OFF-ROAD SPECS

Available Air Ride Adaptive Suspension standard on Edition 1 and EV3X.
VIEW SPECS
---
Engage available Watts to Freedom to unleash the supertruck's astounding acceleration: available 0-60 mph (0-97 km/h)† in approximately 3 seconds for the Pickup and 3.5 seconds for the SUV.

Preproduction HUMMER EV Pickup screen shown.  
MULTISENSORY EXPERIENCE

In addition to thrilling propulsion, available Watts to Freedom lowers the supertrucks 2" (50 mm) for reduced wind resistance, while surrounding you in an immersive multisensory cabin experience.

---
TRAILERING
An available trailer rating of up to 3,855 kg (8,500 lbs)† for the Pickup and 3,401 kg (7,500 lbs)† for the SUV and the available ProGrade™ Trailering System help provide a sense of control and confidence when hitching and trailering.
Preproduction HUMMER EV Pickup screen shown.

PROGRADE TRAILERING SYSTEM

Available ProGrade trailering technologies include the in-vehicle Trailering App† (shown here), as well as a suite of other technologies such as the smart trailer integration, Jack-Knife Alert and more to enhance your trailering experience.

Preproduction HUMMER EV Pickup screen shown.

INTEGRATED CAMERA SYSTEM

Available UltraVision,† included with the Extreme Off-Road Package, provides various camera views to help manoeuvre in almost any situation. It includes up to 18 available camera views on the Pickup and up to 17 on the SUV such as Surround View, Rear Camera Mirror and transparent trailer view to help see virtually right through a compatible trailer to detect objects behind it.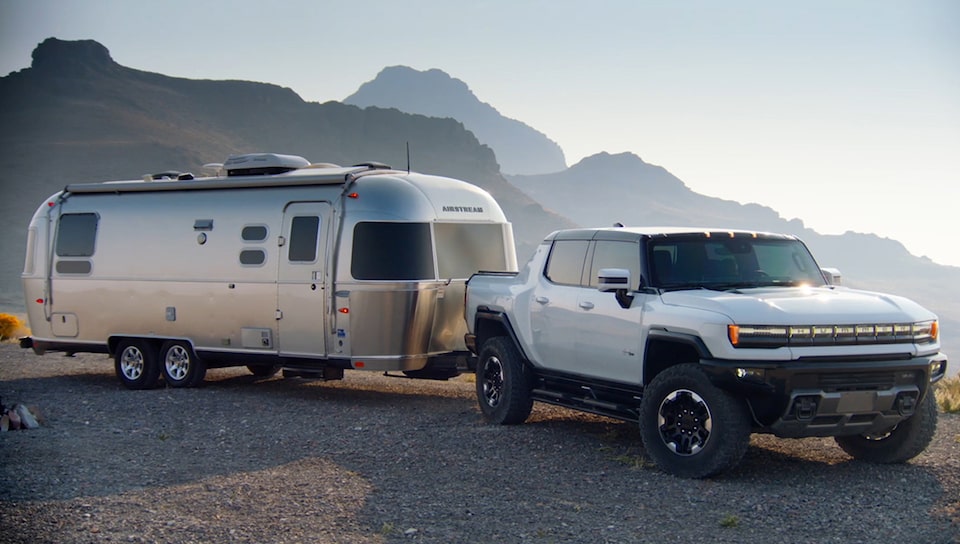 SMART TRAILER INTEGRATION

The HUMMER EV offers the available ASA Electronics iN•Command® Control System.† It lets you monitor and control a range of smart system functions, such as water tank levels, climate controls and even power slide-outs in recreational trailers equipped with Global Connect technology.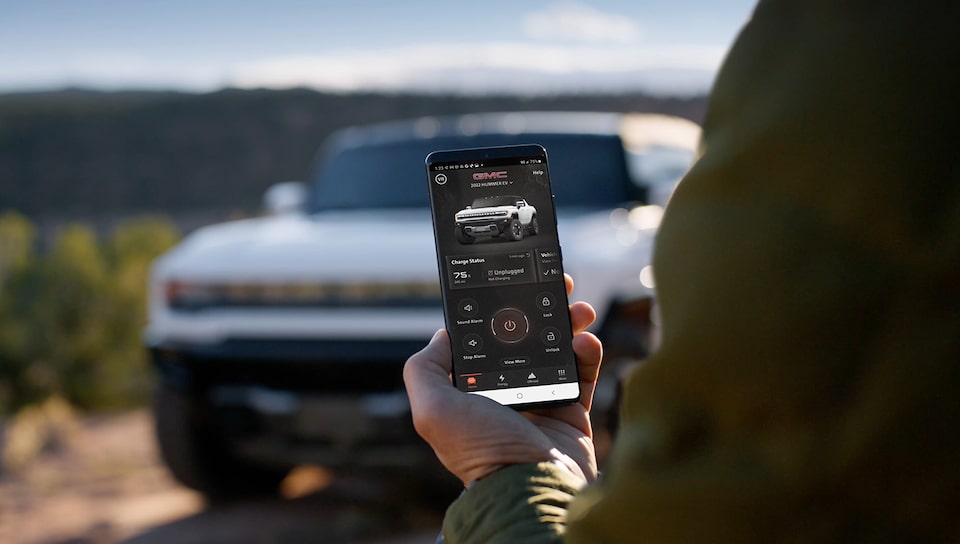 myGMC MOBILE APP

The available myGMC Mobile App† allows you to create and manage trailer profiles, run Trailer Light Sequence Tests, reference predeparture checklists and use a Trailer Load Calculator to determine the combined weight of your supertruck and trailer.

---