---
ELECTRIC FROM FIRST GLANCE 
The unmistakable HUMMER EV design is infused with signature cues. The front lighting animation greets you while iconic H-illuminated taillamps remind followers that the revolution just passed them by.

LIGHTING YOUR WAY

The supertrucks' personality comes alive with expressive lighting animation that welcomes your approach, signals your departure and indicates charging status.

POWER eTRUNK

Stow the available modular Sky Panels or other gear in the power eTrunkTM with up to 11.3 cubic feet (320 L)† of space. There's a 12-volt power outlet, lighting and four cargo D-rings.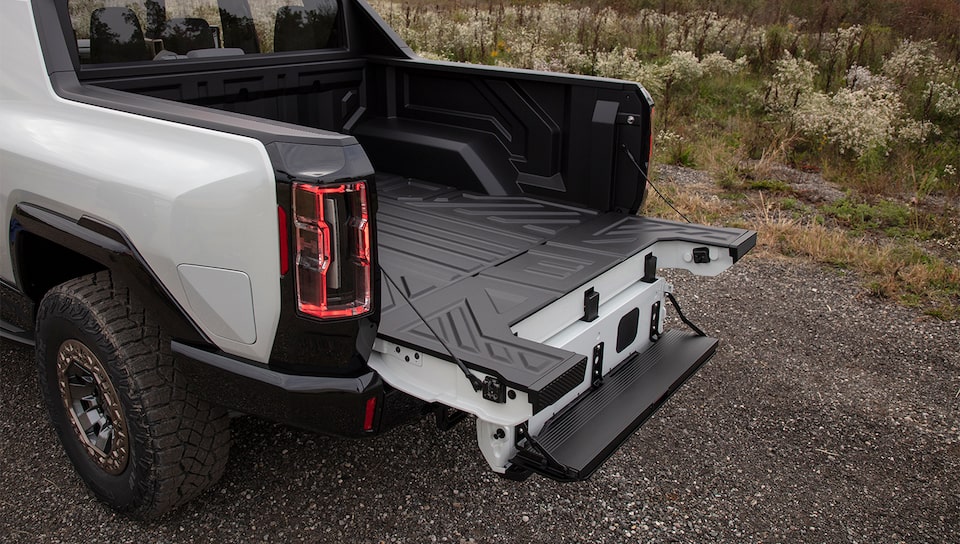 MULTIPRO PICKUP TAILGATE

The MultiProTM Tailgate, standard on HUMMER EV Pickup, helps improve accessing, loading and unloading the cargo bed.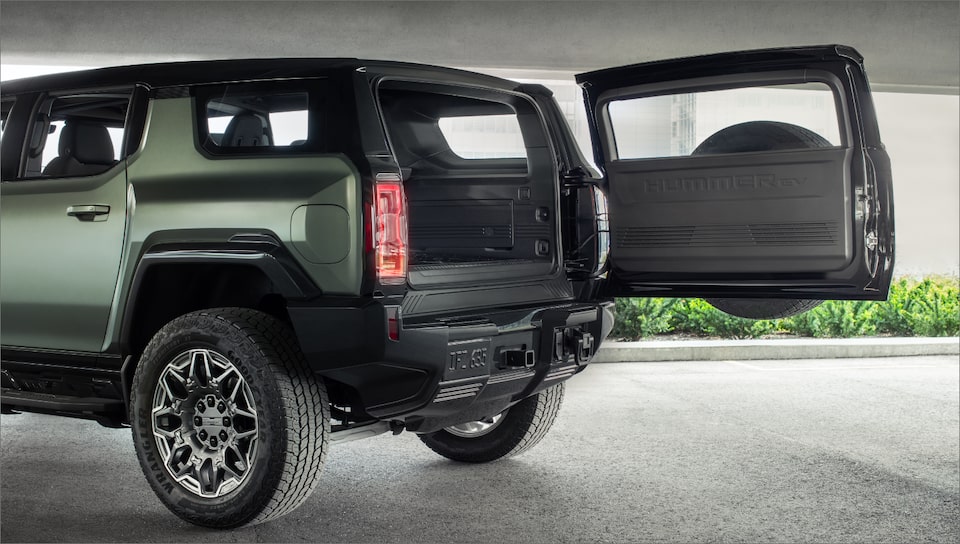 SUV POWER SWING GATE

The Power Swing Gate opens and closes using the key fob or a rear exterior button for easy access on or off the trails. The Power Rear Drop Glass lowers to further enhance the open-air experience.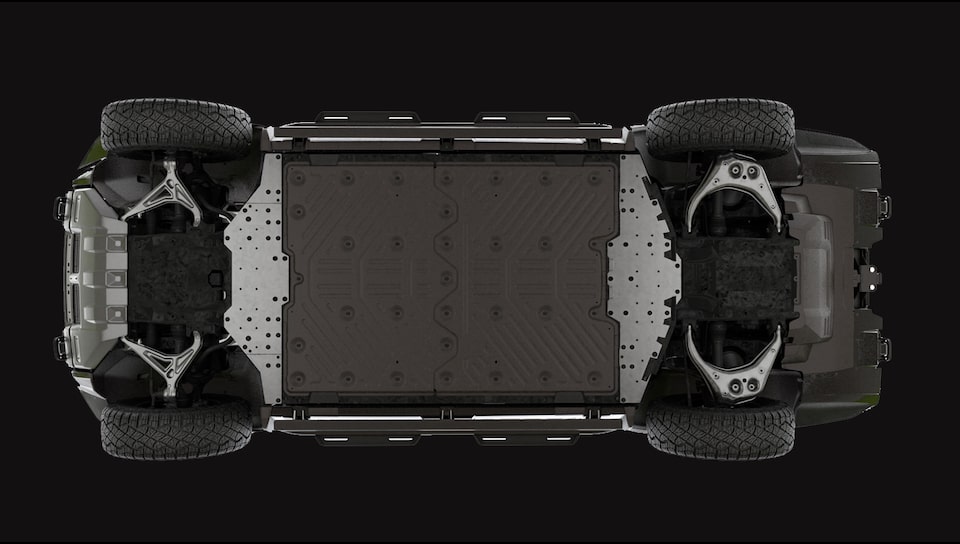 FULL UNDERBODY ARMOUR

Utilizing steel plates and shields around the drive unit and battery pack, available full underbody armour, skid plates and rock sliders help protect HUMMER EV in off-roading environments and are only included in the Extreme Off-Road Package.

POWER REAR DROP GLASS

Touch a button and the Power Rear Drop Glass on HUMMER EV Pickup and SUV responds by immersing the cabin in fresh air and greater possibilities.

---
ELECTRIFYING EVERYWHERE YOU LOOK

The supertrucks wear their identity as a badge of honour.

---
---
SHAPED BY AND FOR THE ELEMENTS

The powerful proportions of the HUMMER EV are inspired by the majestic landscapes they were created to conquer.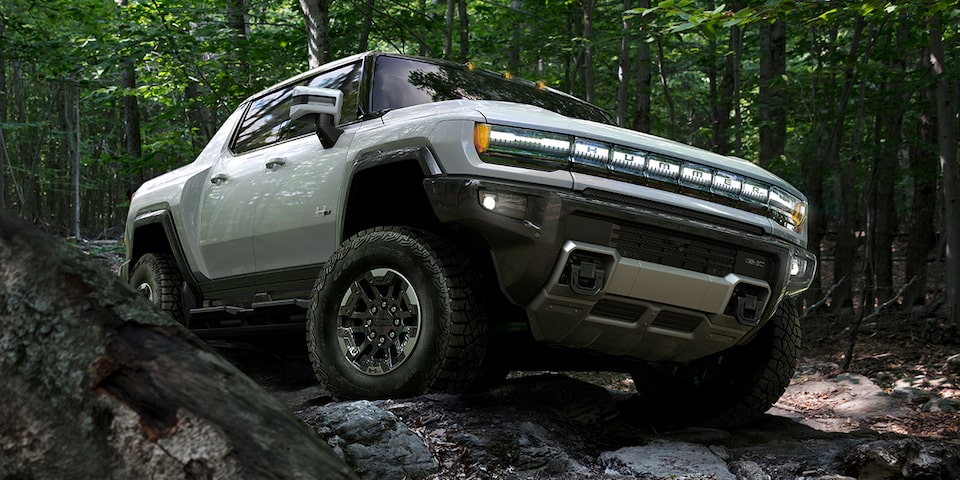 THE FUTURE LOOKS REVOLUTIONARY

From their prominent, upright windshields to their low-profile rooflines, the supertrucks create an iconic silhouette. 

Preproduction models shown with dealer-installed accessories.
1 of 4

DESIGNED TO DOMINATE

Their capable stance and instantly recognizable profile reflect the revolutionary off-road capabilities of HUMMER EV.

VIEW MORE IMAGES
Preproduction model shown with dealer-installed accessories.
3 of 4

OPTIMIZED PICKUP CARGO BED

HUMMER EV Pickup's 5-foot (1,525 mm) cargo bed is designed to be the ideal length for achieving both functionality and nimble manoeuvrability.

Preproduction model shown with dealer-installed accessories. Actual production models may vary.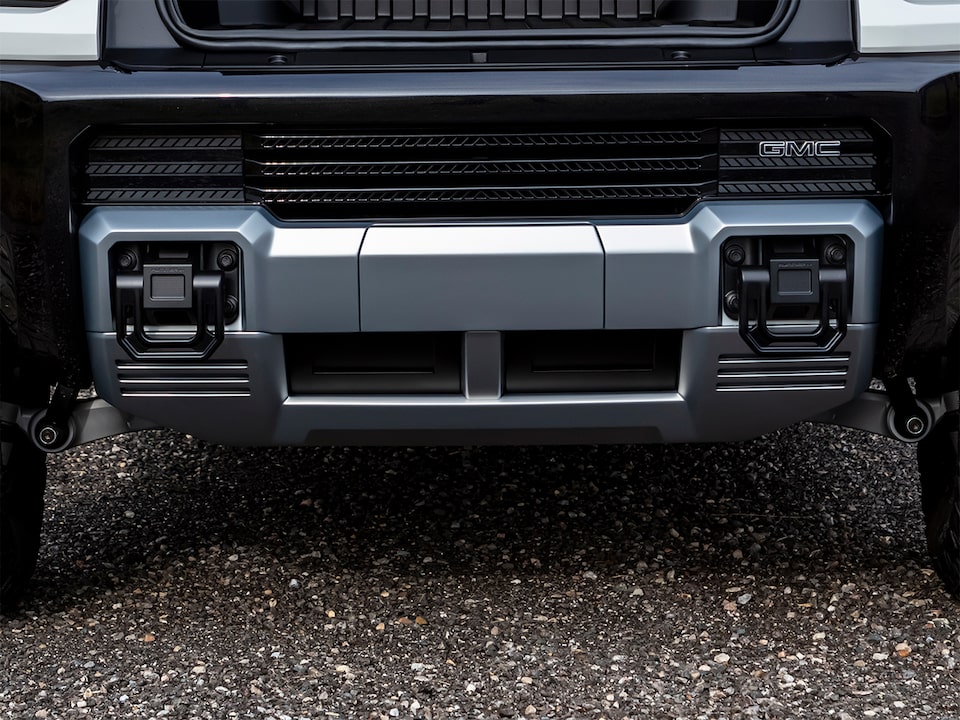 4 of 4

INTEGRATED RECOVERY HOOKS

The front and available rear heavy-duty D-Ring Recovery Hooks† are frame-mounted and designed to take on the rigors of off-roading, overlanding and on-road use.

VIEW MORE IMAGES
---
DESIGN THAT CONQUERS

HUMMER EV Pickup and SUV come by their off-roading capabilities naturally. They're designed from the harsh, unforgiving ground up for conquering.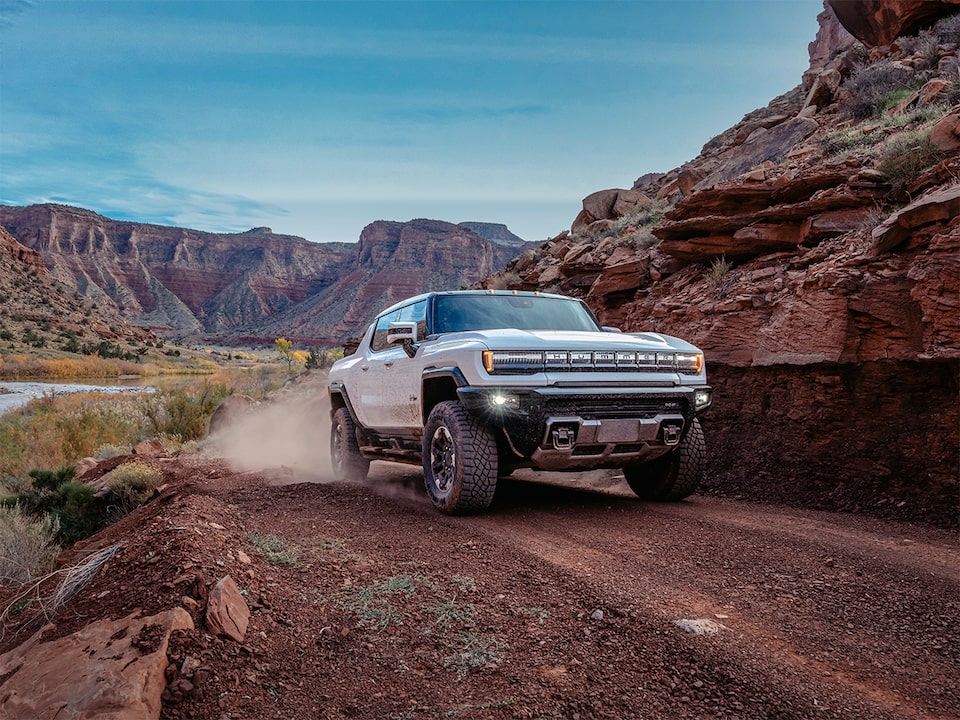 DESIGNED WITH OPTIMAL OFF-ROAD PROPORTIONS

Supertrucks are engineered to tackle approach, departure and breakover angles for climbing steep inclines and manoeuvring in and out of gullies.
Preproduction models shown with dealer-installed accessories.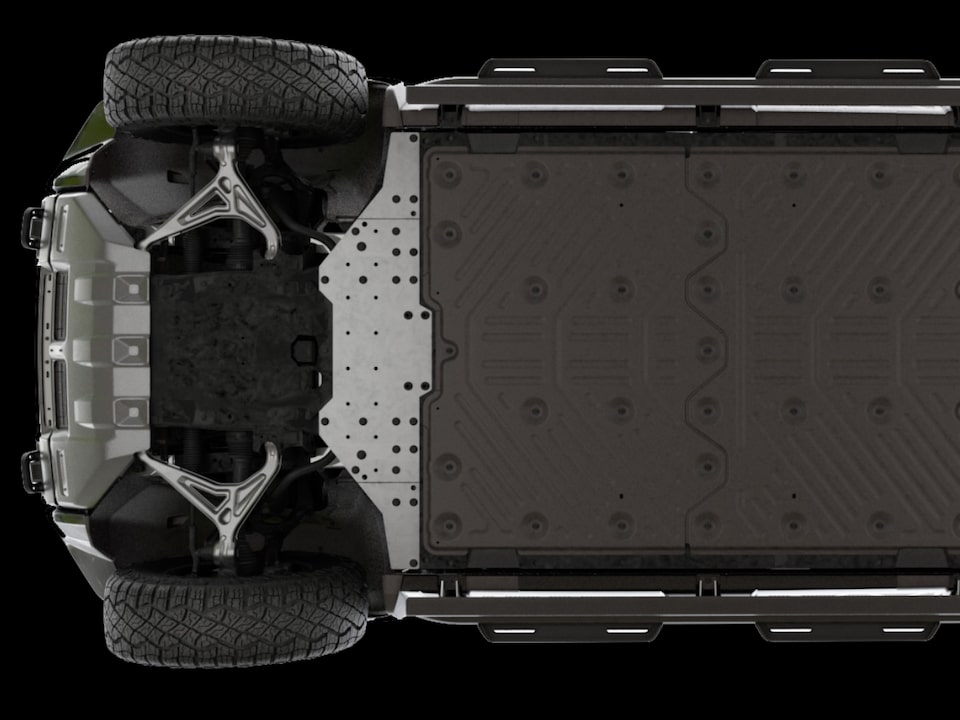 PROTECTIVE CHASSIS

A protective chassis helps surround and isolate the battery, drive unit, body and lighting elements from harsh terrain. While available full underbody armour uses steel plates and shields to help protect the supertruck in off-roading environments.

OFF-ROAD BUMPERS AND FRONT DESIGN

Off-road bumpers and body panels are designed to enable the steep approach and departure angles of the supertrucks.
1 of 3

INTEGRATED FRONT RECOVERY HOOKS

Integrated Front Recovery Hooks† perform an aesthetic as well as a practical function.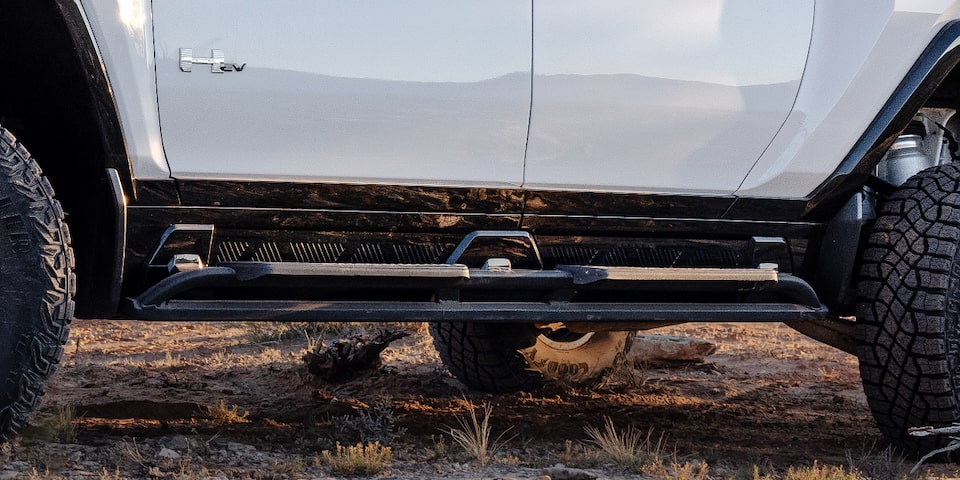 2 of 3

ROCK SLIDERS

Available rock sliders with dual-section tubing on either side of the supertrucks are capable of supporting significant weight during highly technical off-road manoeuvre.

---
---
WHEELS WORTHY OF A SUPERTRUCK

All HUMMER EV models offer an array of standard and available wheels engineered to handle the toughest terrain and designed to look good doing it.

18" AVAILABLE BLACK ALUMINUM WHEELS WITH MACHINED ACCENTS

22"  AVAILABLE PREMIUM FINISH ALUMINUM WHEELS

---
WHAT ZERO LIMITS FEELS LIKE

Bringing the great outdoors into the great indoors.

INFINITY ROOF WITH MODULAR SKY PANELS

The Infinity Roof features standard Opaque and available Transparent Sky Panels that can be removed to create an immersive open-air experience.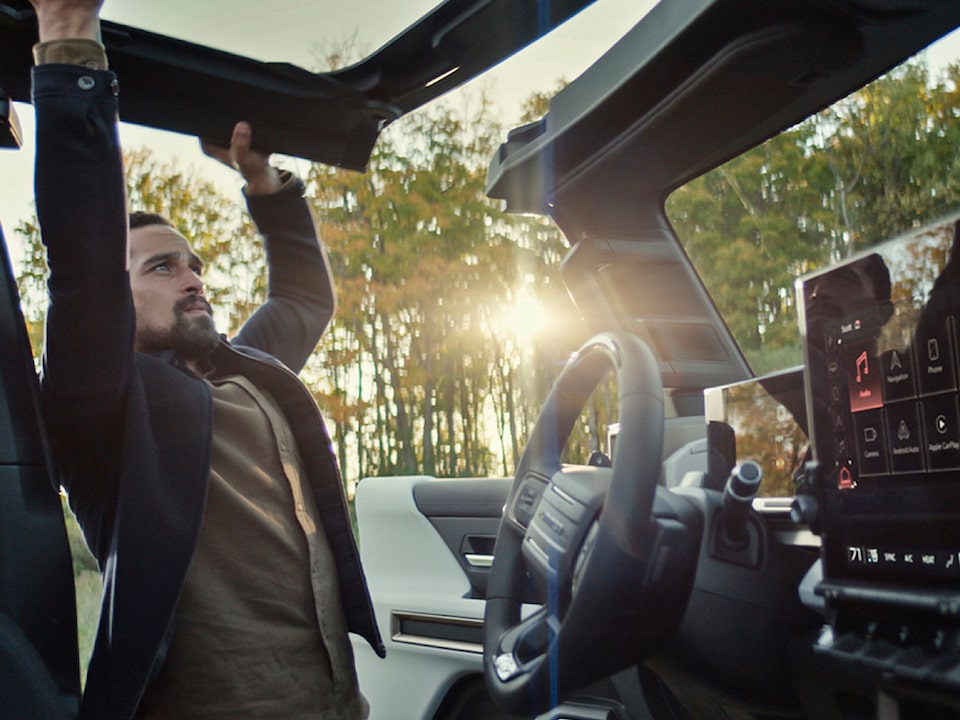 EASY REMOVAL

The four lightweight panels are removed using a series of simple latches.

Shown with available dealer-installed accessories.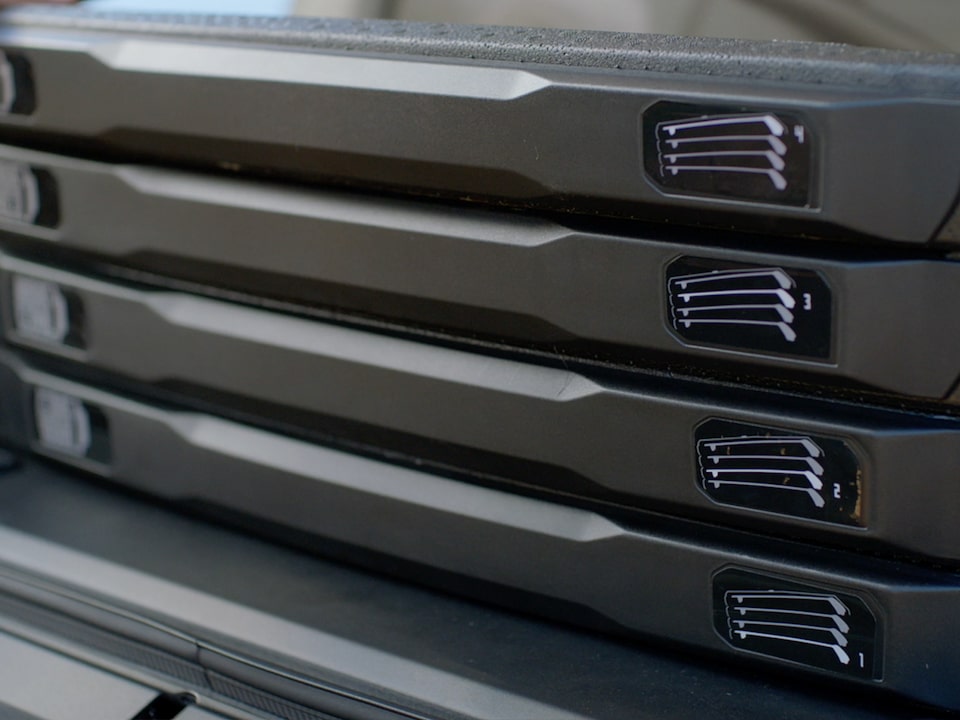 INTUITIVE GRAPHICS

Easy-to-follow graphics help to show you how and where to store the panels.

Shown with available dealer-installed accessories.
SECURE STORAGE

The modular Sky Panels and available accessory storage cases fit securely in the power eTrunk™.

---
YOUR HOME AWAY FROM ANYWHERE

Like everything in the HUMMER EV, the cabins are designed to be revolutionary. So, no matter how rugged the great outdoors gets, inside the supertrucks, you're clearly in command.

LUNAR HORIZON INTERIOR

Intergalactic travel and otherworldly landscapes inspire the available Lunar Horizon-themed interior in Jet Black and Light Grey.

LUNAR SHADOW INTERIOR

In Jet Black and Taupe with Tech Bronze accents, the available Lunar Shadow interior foreshadows adventures to come.

HIGH-DEF SCREENS

The 3D graphics in the centre-mounted 13.4" diagonal touch-screen and 12.3" diagonal Driver Information Centre create an immersive, multisensory experience to easily command the supertrucks from the driver's seat.
BOSE AUDIO SYSTEM

The Bose® 14-speaker audio system featuring Centerpoint® with the Electric Vehicle Sound Enhancement system creates a multisensory experience designed specifically for the HUMMER EV cabins.